Fashion DIET at Techtextil – Frankfurt am Main, 24 June 2022
With a total of 117 participating nations, around 63,000 visitors and 2,300 exhibitors, a brilliant new start was achieved for the international textile fairs at the Frankfurt exhibition centre with. There were the three events: Techtextil, Texprocess and the Heimtextil Summer Special.
Techtextil 2022 impressed with its internationality and user diversity. Exhibitors from twelve application areas and eleven product groups met with a wide range of visitor interest. Techtextil and Texprocess showcased sustainable materials and processing technologies, automation and digital processes, as well as innovations and advanced new developments across the entire range of exhibitors' offerings. Information and inspiration were provided by conference formats such as the Techtextil and Texprocess Forum.
The Heimtextil Summer Special was trendsetting with its clear focus on sustainability. A wide range of products – from fibres made from PET bottles to fairly traded natural materials and textile products with QR codes for tracing the entire production process – enabled visitors to experience the megatrend of sustainability in its entirety.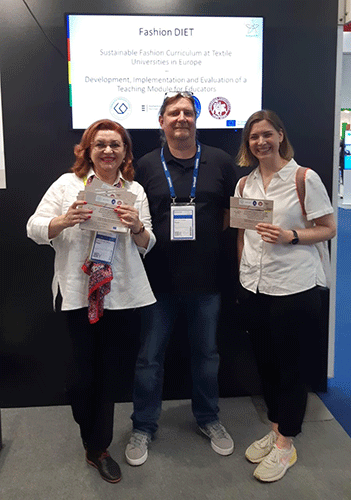 Several universities also demonstrated their novelty in the field of textile research. Among them was Reutlingen University from Germany, one of the Fashion DIET partners, which presented its latest developments in research and new educational programmes. At their booth the Fashion DIET project was presented through a running poster and brochures distributed by Marlen Wagner, the university's representative in the project consortium. Prof. Dr. Mirela Blaga, the TUIASI Fashion DIET project coordinator, was also at the fair to explain the main objectives and results of the project. During the visits to the booths of the various companies and universities, many materials were distributed to disseminate the project. Prof. Blaga, in her capacity as a member of the International Federation of Knitting Technologists (IFKT), gave an overview of the project at the IFKT General Assembly held during the fair period.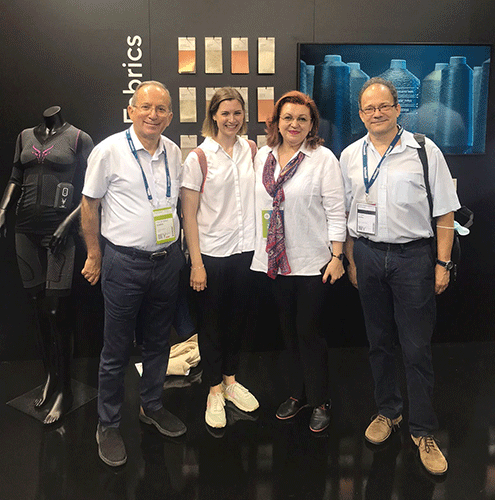 Fashion DIET consortium, March 2022